Harmony in Blue
When looking for a peaceful atmosphere blue is the perfect color. Blue is the color of the infinite, of the sky and of the deep sea. Blue has often been the color of aristocracy and remains for ever chic. The color blue blends easily with other hues and increases the sense of volume. Indigo and cobalt, the two predominant sources for blue color are some of the oldest colorants known to man.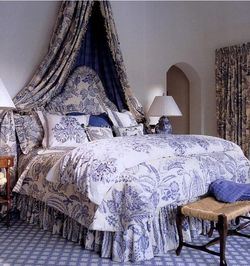 In a small bedroom a swath of blue printed fabric gives a decided aura of luxury.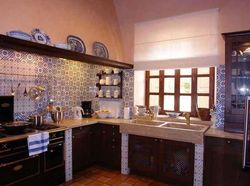 A lovely kitchen in Mallorca, Spain decorated with Spanish hand-painted tiles. From Holland to Iran, to Greece, to France, to China the theme of blue and white hand-painted tiles has always existed.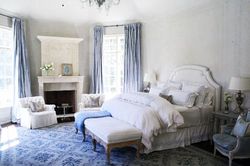 Katie Stassi, who is known for her subtle chromatics, has chosen blue as the accent color for this bedroom.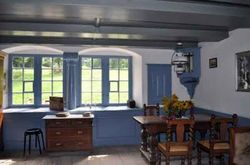 A dining room in a historic chalet in Germany.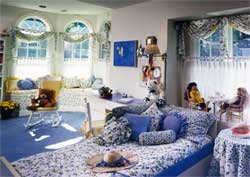 Two kids rooms designed by Barbara Hawthorn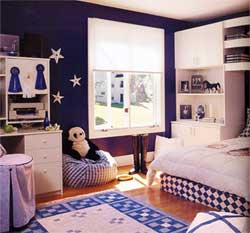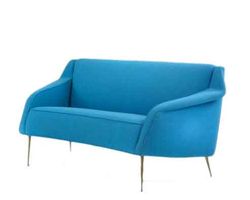 A Carlo de Carlisettee cerulean blue sofa, Singer & Sons Italy, 1951. One could say that it hasn't aged a day!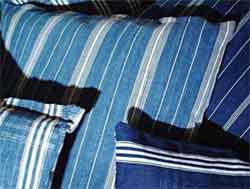 Indigo blue cushions designed and produced by IXCASALA.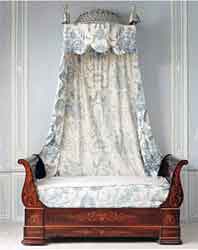 Baldaquin in hand printed 18th c. fabric from the famous Nantes manufacturer Petitpierre. The color blue appeared only for a short time as it was discovered to fade.
A Choice of Fabrics
Blue printed cotton fabric
Motif designed in Bromley Hall, UK in 1760.
Designed by the very famous Austrian- Swedish designer Josef Frank (1885-1967)
Toile de Jouy
20th century

This fabric was designed by Lewis Foreman Day (1845-1910).
Lewis was an British artist and member of the Art&Craft movement

Designed by Elsa Gulbert
A blue Tartan is never out of fashion.
Home Decor in Blue
A 19th century copy of an ovoid jar Qianlong period (18th c.)
A Charles Schneider acid-etched glass vase circa 1930, France.
A Chinese porcelain bowl, Kangxi period. The porcelain produced under Kangxi's reign was of greater refinement than ever before.
Volutes
A Lalique glass, 1935, France
A French pate-de-verre bowl, made by George Despret, circa 1900
Eight-piece glass seaform set.
Dale Chihuly, 1989
A cobalt blue Delft plate, circa 1620.
A Chinese blue dragon dish.
Wanli period (1563-1620)

A Persian Safavid blue and white dish, probably 17th century. It depicts a Persian garden with two doves in a central pond.