Energy Buildings
The words "energy building" or "zero energy building" are used more and more in magazines but often the waythey are used is inappropriate. It's useful to have in mind the following definitions provided by by The National Renewable Energy Laboratory, US Department of Energy.
Net-Zero Site Energy — A building that produces at least as much energy as it uses in a year, when accounted for at the site. The measurement time frame is annual.
Net-Zero Source Energy — A building that produces at least as much energy as it uses in a year, when accounted for at the source. "Source energy" refers to the primary energy required to generate and deliver the energy to the site. To calculate a building's total source energy, imported and exported energy is multiplied by the appropriate site-to-source conversion multipliers.
Net-Zero Energy Costs — A building where the amount of money a utility pays the building's owner for the energy the building exports to the grid is at least equal to the amount the owner pays the utility for the energy services and energy used over the year.
Net-Zero Energy Emissions — A building that produces at least as much emissions-free renewable energy as it uses from emission-producing energy sources annually. Carbon, nitrogen oxides, and sulfur oxides are common emissions that NZEBs offset.
Near Zero Energy — A building that produces at least 75% of its required energy through the use of on-site renewable energy. Off-grid buildings that use some nonrenewable energy generation for backup are considered near zero energy because they typically cannot export excess renewable generation to account for fossil fuel energy use.
Zero Energy Realised Buildings
Aldo Leopold Legacy Center
Located in Baraboo, WI, USA this project was completed in April 2007. This is The headquarters for the Aldo Leopold Foundation.Born in 1887 Aldo Leopold is considered by many as the father of wildlife management and of the United States' wilderness system.

This building is a carbon-neutral, net zero energy building
More achieved buildings in USA >>
Bill Dunster Zedfactory Homes, Upton in Northamptonshire UK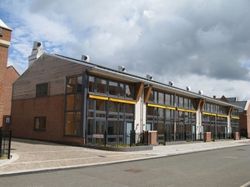 The homes are built using the Zedfactory's RuralZED system which was pioneered by architect Bill Dunster. They are suposed to meet level six of the UK Code for Sustainable Home. Zedfactory said the homes cost approximately 10% more to build than a conventional home. This last point is disputable.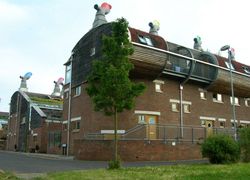 BedZED or Beddington Zero Energy Development, designed by Bill Dunster
Electricity consumption for lighting, cooking, appliances: 40% of average consumption.
Green Lighthouse designed by Christensen & Co arkitekte.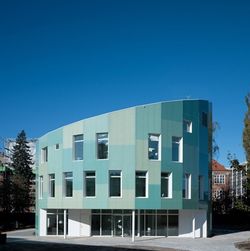 This building will literally become a source of renewable energy and serve as a showcase at the United Nations Climate Change Conference in Copenhagen in 2010.
Spectacular Architects Projects for the Future
JmSchivo & Associati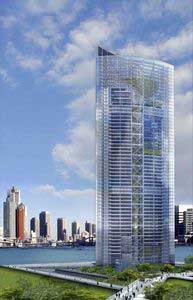 Energy Tower Proeject, Paris
Thermal connectors are integrated with the facade.