Paradise Found:
Corsica's Domaine de Murtoli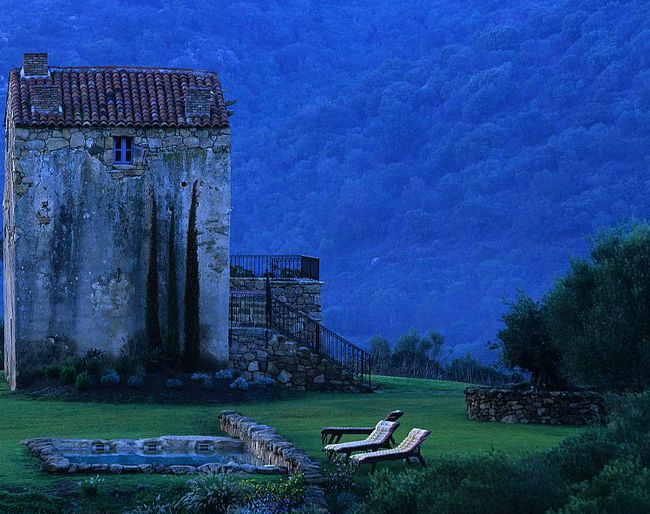 | | |
| --- | --- |
| | Corsica, a mountainous French island, is situated 120 miles south of the Cote d'Azur. Despite being situated so close to one of the most touristic areas in the world, the island has kept a low profile and remains a wild and mysterious jewel in the Mediterranean. It's best to approach Corsica by sea as you'll not only get a glimpse of the mountain peaks which often remain snow-capped until summer, but you'll also get a whiff of the island's perfume hours before arriving. Domaine de Murtoli is one of the rare places in Corsica where it's possible to rent a villa in precisely the kind of landscape that makes Corsica a rare and unique treasure. |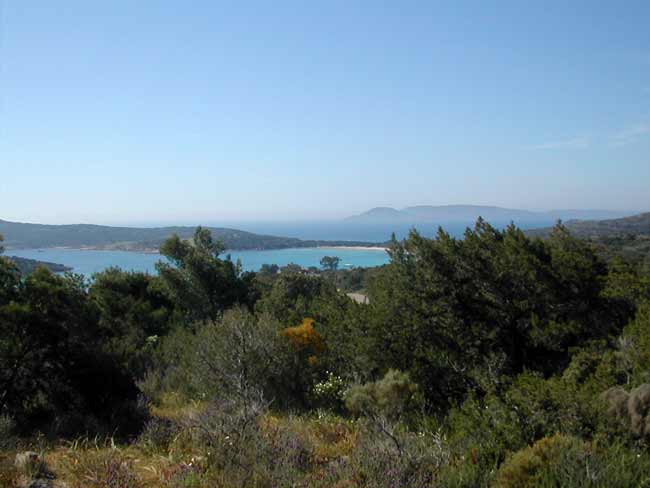 Domaine de Murtoli covers an expanse of 3000 acres on the south-west coast of Corsica. The property, in addition to being a resort, is a working farm. Several of its 17th century shepherd's houses and sheepfolds have been respectfully renovated and are available to rent for a week or more.  The atmosphere is chic, the lodging is comfortable, and the location allows ample possibilities to discover a hidden corner of the Mediterranean and a source of many European civilisations. In Corsica care has been taken such that industrial development and urbanization haven't trampled upon nature. Transparent turquoise coves and deserted white sand beaches tuck into the nook and cranny coastline. A true mountain range carpeted with sumptuous forests and carved through with trout streams rises up in the center of the island. Sun bleached rocks, olive trees, and wild geraniums abound, and even sometimes orchids.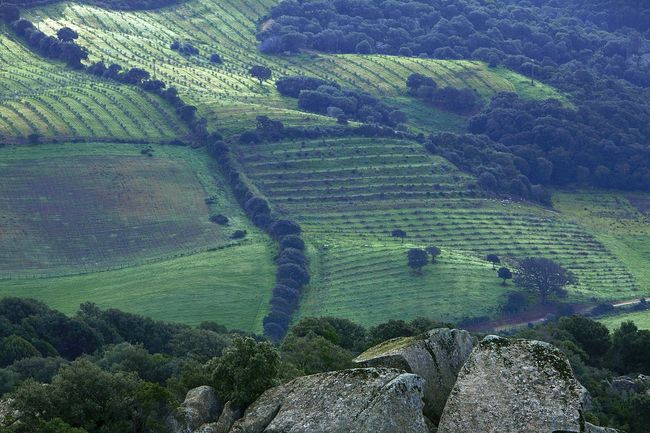 Much of the allure of the resort, apart from the sheer splendor of its expansive grounds, is the result of a finely tuned blend of pure luxury and raw nature. An ancient cave has been tranformed into a spectacular candle lit restaurant. An assortment of villas, sheepfolds and hamlets, each set in its own unique landscape offer comfort, elegance, privacy, and stunning views. And the farm's own production supplies a bountiful fare of fruits, meats, vegetables, local honey and even its own home made oils. It's back to basics in paradise! This, coupled with a long and practiced tradition of hospitality, is what the Domain has to offer: an escape where you can be far from the clamor of the city but close to several excellent French restaurants, myriad private beaches and the magnificent golf course of Sperone. Here, where the essence of beauty and pleasure has been safeguarded, there is the possibility for a truly blissful retreat!
Domaine de Murtoli
20100 Sartène
Tel. +33 (0)4 95 71 69 24
villas@murtoli.com
Photos Courtesy Domaine de Murtoli