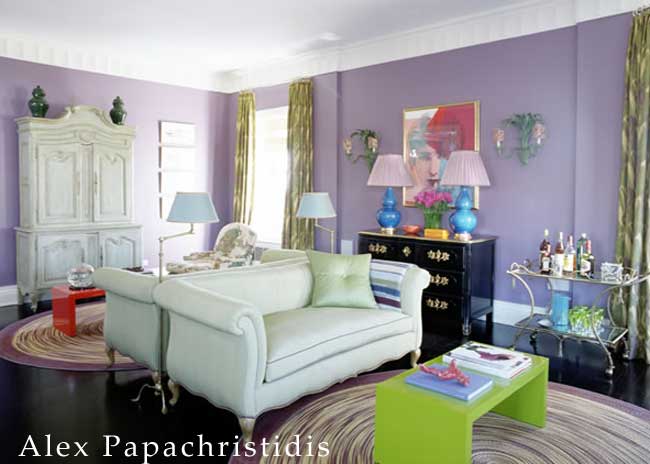 Alex Papachristidis was born in 1962 in New York and remained there throughout his entire childhood. An alumni of the "Parson's School of Design," Alex's love of life is always apparent. In his own words, "I'm the kind of guy who always wants more. I love to travel, I love good food, luxury, friendship." Drawing on his curiosity, generosity, and expansiveness his style often reflects his jubilant nature. At last, a designer who doesn't see life as an endless parade of beige! Alex adheres to what is true, magnificently constructed, and above all unique. "I don't like plastic, paper and all that seems artificial."
At the of 25 Alex created "Anderson, Papachristidis Interiors" with Leslie Anderson. They continued to work together until Leslie left in 1995. From 1995 until 2004 he was associated with Antoinette Raeymaekers. He's traveled extensively in Europe, and the splendid properties that he visited there and in North America have contributed to the development of his eye and the building of a refined esthetic sensibility. Alex Papachristidis Interiors is today an important reference in the world of decoration and of architectural interiors and one can find examples of his work in many different countries.
| | |
| --- | --- |
| | |
What strikes me about Alex is that not only is he open and kind but despite his celebrity he's retained an ear to his clients and is willing to blend their ideas into his designs.  He's also somewhat of a perfectionist tending to the slightest detail in his works and unwilling to compromise on their quality or their materials.  In my eyes he's one of the rare designers today who knows how to use the infinite bounty of textiles in interior decoration and for his colors the richness of a classical painter's palette.
Articles about Alex Papachristidis have appeared in such magazines as Elle Décor, House & Garden, House Beautiful, Southern Accents, Hampton Style, New York Home and the New York Times.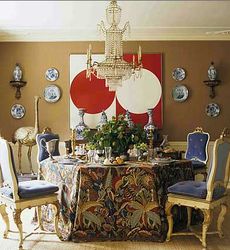 Last Designer of the Month: Brooke Giannetti