Italian Garden Inspirations
"The traveler returning from Italy, with his eyes and imagination full of the ineffable Italian garden magic, knows vaguely that the enchantment exists," wrote Edith Wharton in 1907. This feeling has been shared by most travelers who have ever visited Italy and it explains why Italian gardens have provided the inspiration for garden designers all over the world.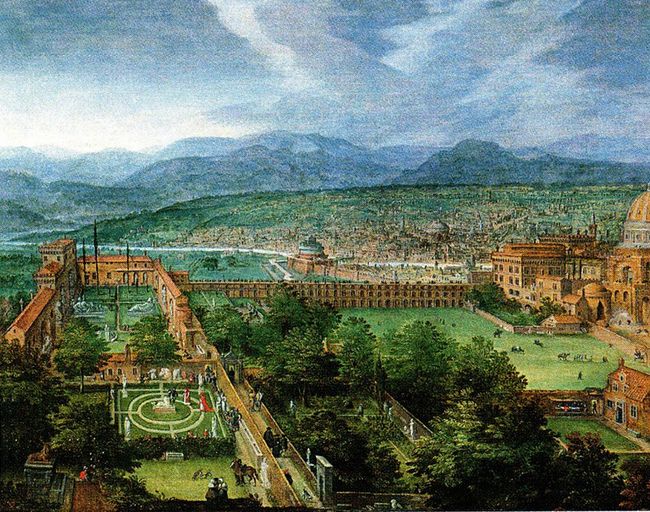 Ornamental and pleasure gardens were first "invented" in Italy, and could be found in both Rome and Florence.  Among them the Cortile Del Belvedere, overlooking old St Peter's Basilica and designed by Donato Bramante, profoundly influenced the way gardens were designed in Europe from 1506 onwards and then later in America. Pope Julius II commissioned Bramante to create the garden in order to link the Vatican Palace with the Villa Belvedere. With this garden Bramante defined the principles that would rule garden design for at least two centuries in Europe.
A central axis bordered by trees offered a long perspective from the house. The slope of the garden was divided into terraces separated by stone stairs and these were themselves supported by walls surmounted by balustrades and ornamented by fountains and statues. On each side of the terraces were groves that symbolized the transition from the garden to the countryside.  These essential principles of the Renaissance garden were to take a century and more to to move across Europe. Such Italian gardens, both rigorous and full of fantasy and sensory delight, have inspired artists and designers for over four centuries!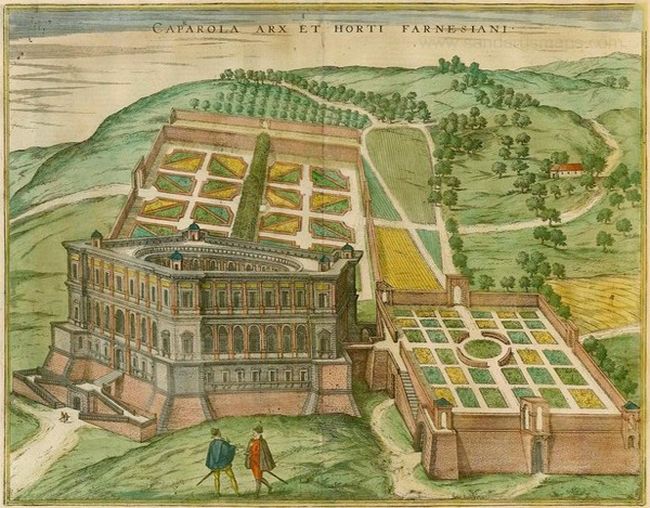 The Farnese Gardens were created on the northern portion of Rome's Palatine Hill in 1550 by Cardinal Alessandro Farnese and were the first private botanical gardens in Europe.  They were designed by Giacomo Barozzi da Vignola (1507-1573) in the Mannerist style.  The geometric design, surrounded by walls with a fountain at its center, was inspired by the Roman epistyle. In such a garden nature is redesigned and tamed, and as such is the antithesis of the classic English garden.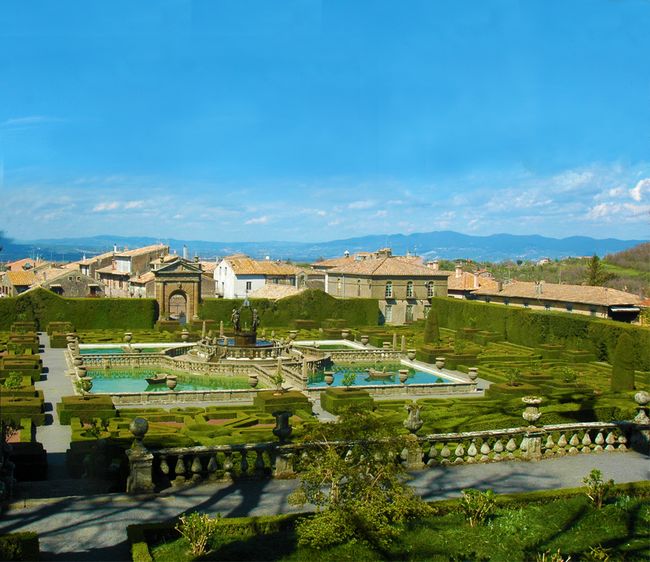 Vignola was also involved in the creation of Villa Lante, a villa  situated north of Rome at Viterbo. The villa was built by two bishops, Gian Francesco Gambarra and  Alessandro Montalato. The construction of the garden was begun in the end of the 1560's and featured a combination of fountains, grottoes, sculptures, terraces, box hedges  and square parterres.  Villa Lante provided the complete grammar of classical garden design and the design of many French gardens of the 18th c. were highly influenced by this style.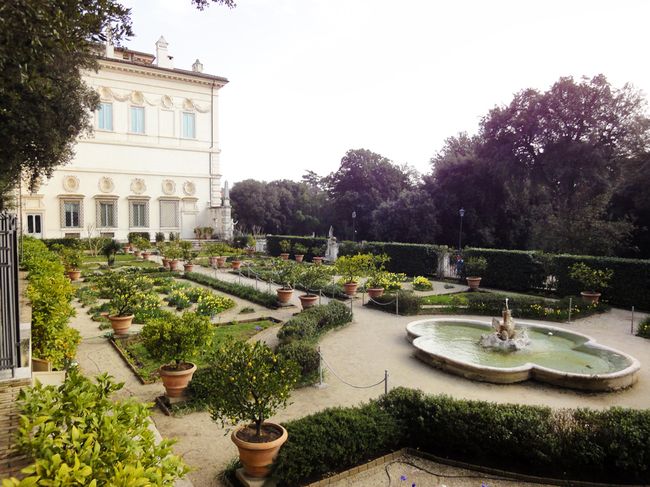 Palazzo Farnese Garden
Palazzo Farnese was designed by Antonio da Sangallo the Younger, a pupil of Bramante. Construction began in 1515.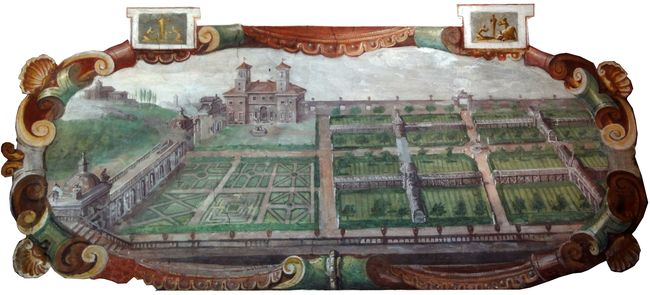 The Villa Medici Garden is an excellent example of a Renaissance garden in the mannerist style. As Villa Medici has been the home of the French Academy in Rome since 1803, it's not uncommon to see artists working or relaxing in the expansive gardens. In Roman times it figured in the vegetable gardens of Lucullus, the famous gastronome, and in the photo below one can see that a small part of the original vegetable garden still remains.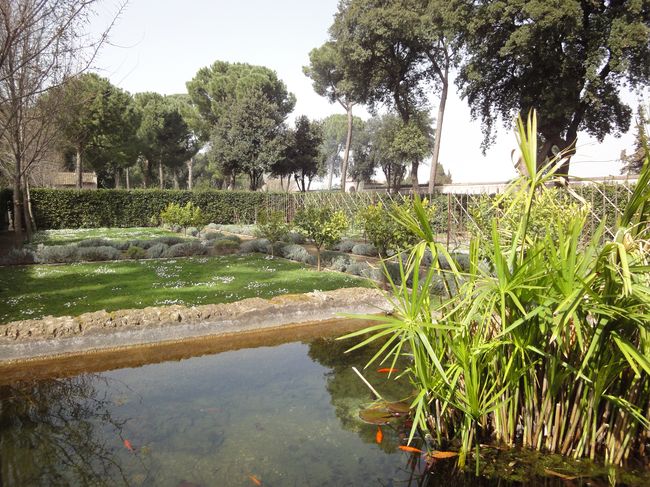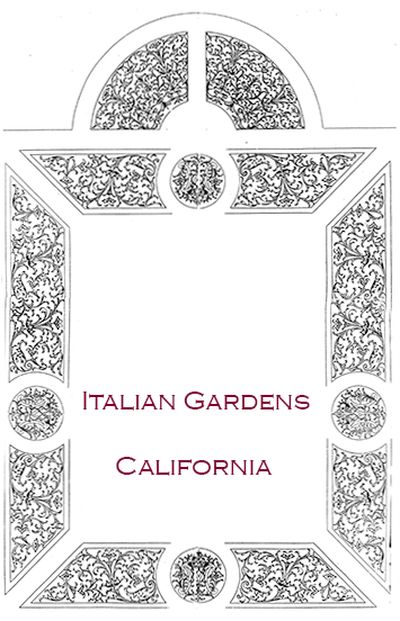 The traditional American garden harkens back to the English cottage garden. However, in the 1880's when travelling to France and Italy became very fashionable, there appeared a new kind of garden with a design deeply influenced by classical Italian and French gardens. Italian Gardens by Charles Adams Platt, published in 1894 and Italian Villas and their Gardens by Edith Wharton in 1907, were both widely read and very influential. California's climate is well adapted to Mediterranean vegetation and many gardens of early 20th century estates were designed in the Italian style.
Val Verde, Montecito was built in 1919. This is a two story Mediterranean style house  with a 17 acre garden designed by landscape architect Lockwood de Forest. It features many elements typical of Italian gardens such as walls, colonnades, pools, boxwood hedges, olive trees, cypresses and ficus trees.  The garden took 20 years to achieve.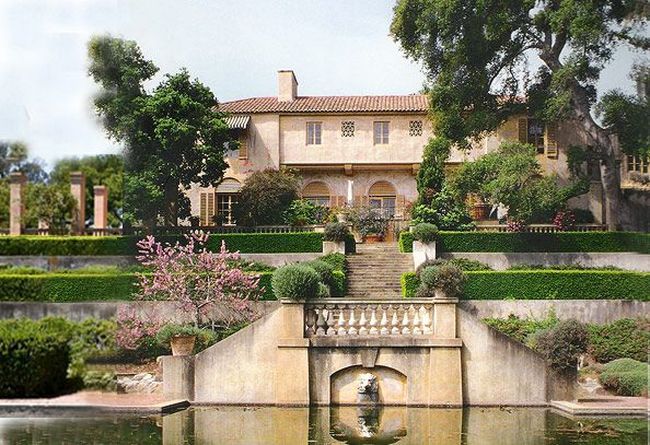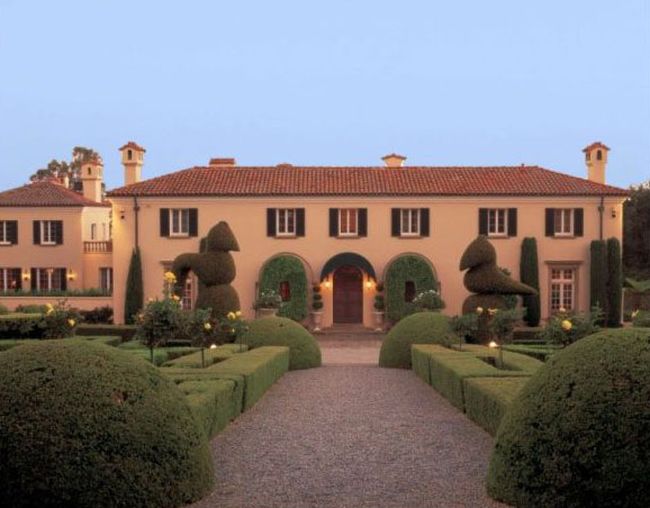 Il Brolino, another enchanting Montecito mansion in the Italian style, translates to "the little garden." It was designed by by Florence Yoch and Lucille Council in 1922.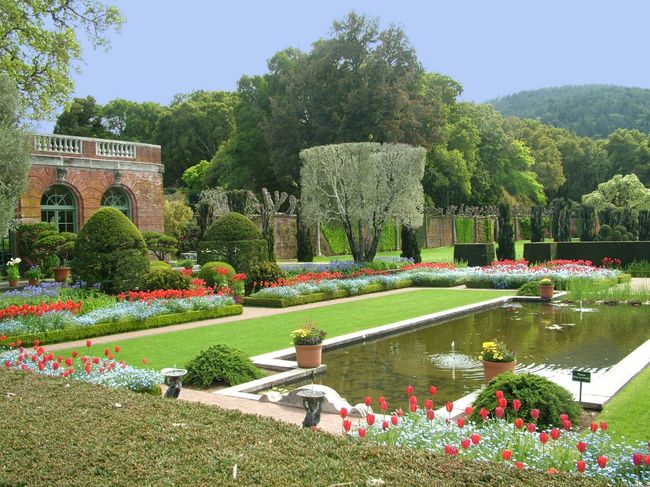 Filoli gardens was designed by Bruce Porter (1865- 1953) for Mr. and Mrs. William Bowers Bourn. Bruce Porter was educated in San Francisco, Paris, London, and Venice, Italy and was a talented painter, sculptor, stained-glass designer, writer, muralist, landscape designer and art critic.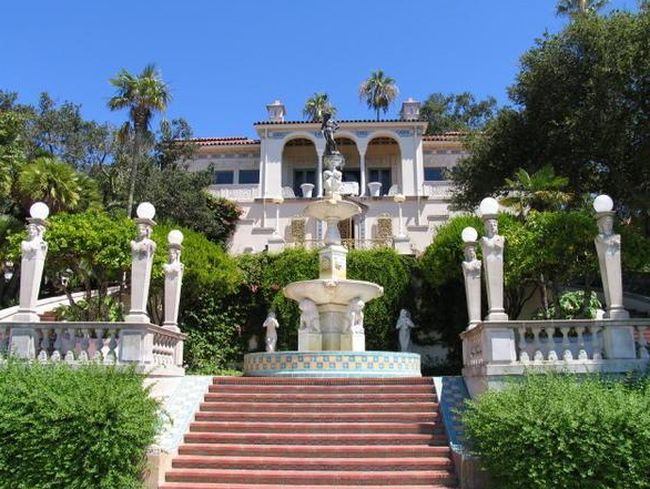 Hearst Castle gardens (above) were designed by Julia Morgan and William Randolph Hearst in the Mediterranean Revival style. Construction started in 1919 and continued through 1947.
The Italian style garden is still popular in California and landscape architects don't seem to tire of designing  or restoring gardens inspired by classical Italian Villas.  A good example is Locksley Hall in Belvedere, CA.  This 1895 Classical Revival residence was recently restored by Suzman Design Associates in San Francisco.  The original architecture was by Julia Morgan.  The design of this garden mixes many different styles but it features elements of the classical Italian style which are particularly well adapted to the site.