Alpines Chalets
A chalet, or Swiss chalet, is a timber house characteristic of those in Switzerland, the Bavarian Alps, Tirol, and the French Alps. A typical chalet features a sloping roof and widely overhanging eaves.? The French writer, Jean Jacques Rousseau, was the first to apply the term "chalet" to a mountain hut (The New Eloise, 1761). Originally chalets were mountain huts built as summer shelters. ?It wasn't in fact until the 20th century that the wooden chalet, such as those originating in the Romansh region of Switzerland, became one of the emblems of the Alps. The two most common techniques used for building wood chalets were log construction and timber framing.
Chalets in Stacked Beams or Logs
?The construction of walls using stacked logs is an easy technique that was already in use during the Middle Ages. This technique was very commonly used in Sweden, Finland, Norway, Russia and Eastern Central Europe.? The first handcrafted mountain log houses were built using only an axe, a knife and sometimes a saw. The logs or beams were assembled at the corner.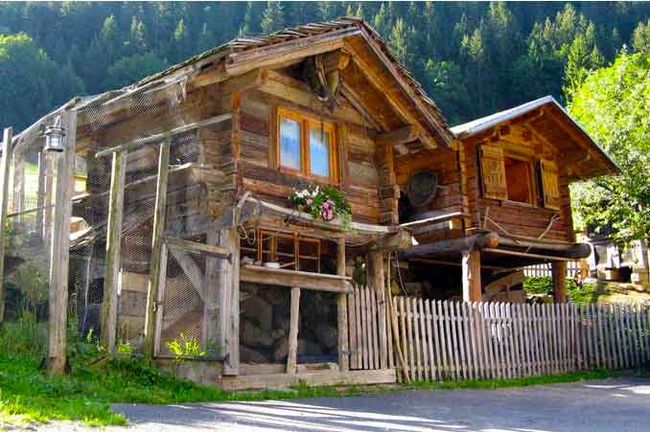 Two small old chalets in larch wood, Savoie, France
Chalets with Timber Framing
Timber framing appeared in the Alps between the 14th and the 17th century as this technique required the use of metallic saws which were not available in Alpine valleys prior to that time.? Wood panels or boards were inserted between the posts. As timber framing used a smaller quantity of wood and was a more efficient technique, it replaced the log building process in most of the Alpine valleys by the middle of the 17th century.
Old chalet in Altenberg, South Germany.

Old chalet in Altenberg, South Germany.

One of the biggest chalet in the world, built in the 19th century by a cheese merchant in Switzerland.

A modern chalet built in the old tradition of Haute Savoie, France

Chalet in Barboleuse, Switzerland.
Barboleuse is part of the Villars ski area.

Small old chalets or "Mazots" at Saas Fee, Switzerland.

Evol?ne, Valais, Switzerland

Evol?ne, Valais, Switzerland

A very old mazot , at Le Chazelet, Oisans, France

An old chalet in Ar?che, Beaufort, France.


This chalet is in Ar?che too. The Beaufortin makes a delicious cheese named Beaufort.

A typical old Swiss chalet.

Old mazot, Iseran Pass , France


Chalets with mural paintings in Bavaria, Germany
Swiss chalet, Pays de Vaud
Modern Chalets
Over the years, the term 'chalet' changed such that it was applied to almost any kind of mountain ?vacation houses, whether built in a strictly Alpine style or not.? Swiss chalet style dwellings are found today all over the globe. The American architect A.J. Downing introduced the Swiss chalet style to America in his 1850 stylebook, The Architecture of Country Houses. The most notable American adaptations of the Swiss chalet can be found in Montana, California and Colorado.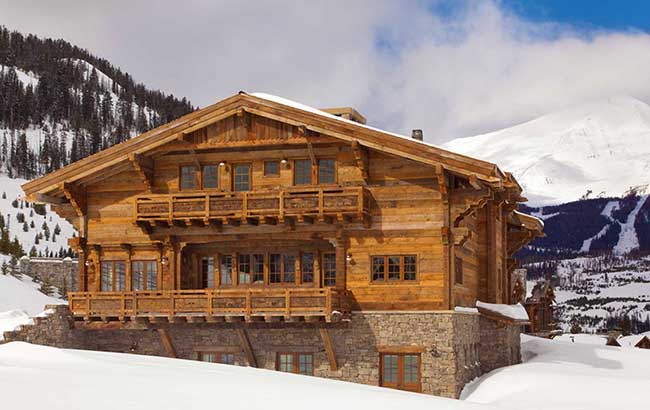 A modern Swiss chalet in Montana, designed by the Pearson Design Group