A Paradise of Boutis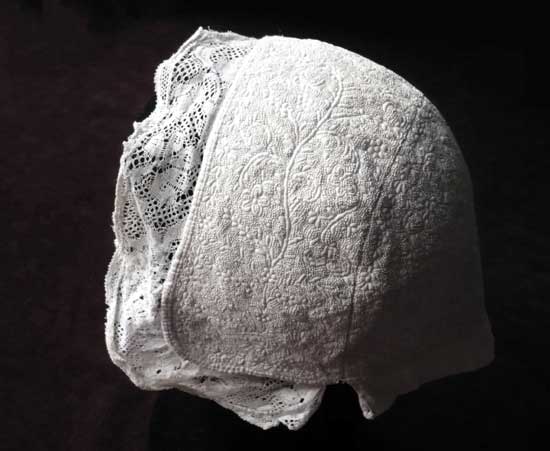 Sculpted Fabrics

Boutis is the art of embroidering from the inside, a quilting technique that one finds especially in Provence and the Languedoc-Roussillon region of France. It's not to be confused with the "piqué de Marseilles," which is achieved with simple quilting while boutis is itself a product of a much more complex technique. Two fabric layers are stitched together (the top in fine white linen batiste although sometimes in red, yellow, or floral print fabric) with small, tight stitches creating the forms of traditional symbols and monograms. Then, within the lines of stitches forming a shape, one delicately inserts a tiny tuft of cotton, giving relief to the surface of the work.


Thanks to the examples of boutis that remain, it's possible today to step back into the bourgeois art of 18th and 19th century life in France. Bonnets and caps, bridal petticoats, infant blankets, marriage throws called "vannes,".....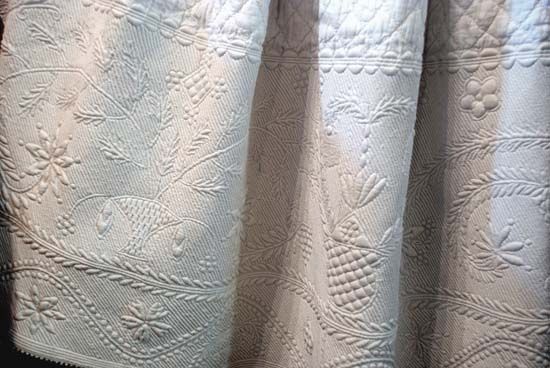 Bridal Petticoat

The higher the embroidery rose on the petticoat, the more extensive was the wealth of the family. It was not yet the custom for the bride to be dressed all in white, but she could hike up her colored skirt in order to show off the treasure of her petticoat! On these spectacular petticoats one finds the symbols of love (hearts), longevity (oak leaves), abundance (wheat ears and fruit), and of course the monograms of the bride and groom.

(petticoat detail pictured above)



Pétasson

The famous French "pétasson," known locally as the "pétassoun," played a role at the birth of the newborn infant, as well as in his official presentation, baptism, voyages, etc. These tiny quilted squares took up the same motifs as were found on the mother's wedding petticoat, and even at times the coat of arms of the family if aristocaratic. These were much more highly worked and sophisticated than the simple baby throws that protect from the indelicacies of the newborn.... What a remarkable investment for such a prosaic destination!
A Sumptuous Bed




| | |
| --- | --- |
| | A "vanne" or "courtepointe" of incredible richness in which the symbols of flowers and fruit are many, interspersed with scenes depicting mythical characters. A grand medallion containing a monogram dominates the center of the quilt. An exquisite finesse and profusion of detail make this piece a true work of art. |


Q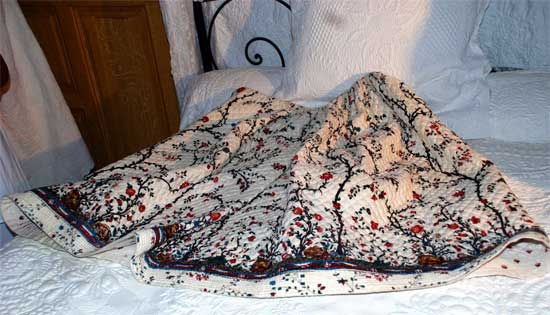 An exceptional 18th century embroidered petticoat in boutis with additional hand painting on the quilted fabric.
The Tristan Quilt




The oldest known piece made with the boutis technique, The Tristan Quilt, dates from the Middle Ages. An identical copy was created at Calvisson (three and a half years in the making by a frenetic group of embroideresses!)



The above collection of magnificent antique embroidered pieces can be viewed at The Maison du Boutis at Calvisson, not far from Nimes, France.

Artcle written by Blandine Jolivet, Paris

photos D.R. Maison du Boutis